Article by Smriti Daniel Pix by M.A. Pushpa Kumara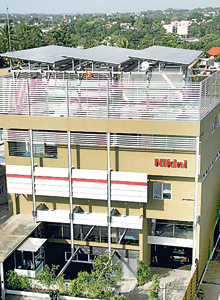 On the roof of the Nikini building, four stories up, it's a windy day. Employing some caution, we step delicately along a narrow passage between an array of solar panels. Sharing our tenuous perch is Upendra Weerasuriya, proud owner of Sri Lanka's first zero-energy building. First opened in 2008, the structure's design ensures enough energy is generated to meet its daily requirements, even allowing for excess energy to be donated to the public grid.
Currently, the building houses the offices of Mr. Weerasuriya's industrial automation business along with his personal residence. As a result, Mr.Weerasuriya likes to point out that his carbon footprint has been considerably lowered not just because his building generates its own clean energy, but also because he no longer burns up fuel commuting to work.
The array of solar panels on the rooftop.
The courtyard right in front of the building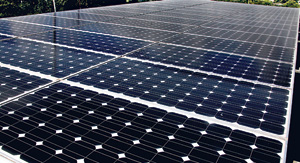 Dr. Upendra Rajapaksha is the architect responsible for the building's revolutionary design. Mr. Weerasuriya says his brief to Archt. Rajapaksha was simply: "I don't even want a generator. The building should be hundred percent CO2 free" – a challenge that the architect was more than up to. Having spent many years engaged in research (he holds a PhD in low energy architecture, and teaches the subject at the Moratuwa University) Archt.
Rajapaksha has implemented several key principles of his study in the design of the Nikini building. Distinguishing between a green building and a zero-energy building he says that a zero-energy building is about more than just minimising energy usage. Instead these buildings produce as much energy as they consume.
There are no light switches in Mr. Weerasuriya's office. Instead, a discreet touch pad, which requires a password, switches on the lights. Even this is only possible if the sensors installed around the office report that the natural light is insufficient. Archt. Rajapaksha's design has ensured that this rarely happens except at night - large windows allow for a flood of sunlight.
But the inhabitants of the office would rather they have the light without the heat – and so cleverly designed louvres operate like sunshades, responding and adjusting to the direction of the sun, protecting the building. Another small touch, a sunken courtyard right in front of the building, creates a shaded area that does not reflect heat back on to the structure.
The plants that thrive in this courtyard are all watered with the rain water collected in four giant tanks, which hold up to 20,000 litres. These are placed on the roof of the building, underneath the solar panels. Their positioning eliminates the need for pumps, as water simply flows downward, supplying everything from the showers and the flushes to the taps in the canteen. The first 250 gallons of rainwater is traditionally discarded as it contains all the dust off the solar panels.
Lightning is the great nemesis of solar panels. Mr. Weerasuriya shows us his solution. It is no ordinary lightning rod, but a special lightning arrestor known as an early streamer whose sensors identify if the cloud has negative ions for instance and then spray positive ions to neutralise it, thereby preventing a lightning strike.
All these measures are essential to protecting what amounts to an expensive investment. The 140 solar panels that are spread out across this roof cost Rs.200,000 each, but with a 20 year warranty and the power to generate approximately 125 kilowatt hours per day, they're what their owner sees as a good buy.
Archt. Rajapaksha adds that though such designs may cost approximately 15% more to build than a conventional structure, the pay off comes in the form of a cleaner environmental bill in an era of global warming. For Mr.Weerasuriya, it helps that he is always informed on how his state of the art system is performing. Run on a controlled network developed by Nikini, it will send Mr.Weerasuriya an SMS should any system component experience problems.
Mr. Weerasuriya's fall back plan is not a generator but a set of batteries. If the main grid experiences a power cut, then this building automatically isolates itself, preventing any electricity from flowing into the grid. The batteries are kept fully charged on solar energy and it's only if these run out that the building returns to the grid. Even then, "if we deduct the energy we gave the grid during the day, our energy usage would be zero or minus because we are giving more to the Electricity Board than what we take," says Mr.Weerasuriya.
Archt.Rajapaksha points out that almost all the energy is diverted to the grid during the weekend, when the office is closed. The entire exchange is carried out with the aid of an import-export metre – another innovation by the company.
When compared to a conventional building, Archt. Rajapaksha says he has scaled back on the structure's energy consumption by 40% through design alone, and that he turns to things like solar panels to generate the remaining 60%. Thoughtful design and careful selection of energy efficient appliances like air conditioners further reduce the structure's energy requirements. Multiple invertors allow three phases, and the employment of standard alternating current makes it possible to run the full range of daily appliances with ease.
A little display in the reception area has only good news to share. The system has generated over 107 kilowatt hours today, and it is only a little past noon. Its tally since October has been over 28,000 kilowatt hours. For most of us, though these numbers are impressive, they are still abstract figures. There's a third though, that does embed Nikini's achievement firmly in the real world. Since October 2008, their zero-energy building has prevented over 19,644 kilograms of CO2 emissions by its reliance on solar power – to put it into perspective, that's enough to drive over 98,000km.