By Will Hurst
A "gulf" is continuing to divide architects from the rest of society because of their obsession with forms, the Prince of Wales said in a historic speech to the RIBA this evening.
Speaking at the RIBA's 66 Portland Place headquarters, the Prince once again called for a return to architecture inspired by tradition and the laws of nature and criticised the "experiment" of modern architecture since the 1960s.
However, following a media storm over his intervention over the £1 billion Richard Rogers-designed Chelsea Barracks scheme, he did not mention the project and held out an olive branch to the profession by calling on the RIBA to work with his built environment foundation on a major new drive to tackle climate change.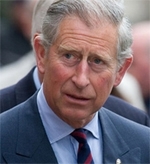 "Today, I'm sorry to say there still remains a gulf between those obsessed by forms…and those who believe that communities have a role to play in design and planning," he said.
"I don't go around criticising other people's private artworks…but architecture and the built environment affect us all. Architecture defines the public realm and it should help to define us as human beings."
The Prince also compared the "experiment" of modern architecture over the past decade with the current crisis in the banking sector.
He said that at least the current financial meltdown had "brought to light something of the short-termist, unsustainable, and experimental nature of the way many professionals now operate in the world."
He suggested that just as society is calling for a return to old-fashioned banking practices, this could also not apply to the built environment.
The Prince and the Dutchess of Cornwall arrived at the RIBA to be greeted by banner-wielding campaigners.
However, they were from the Chelsea Barracks Action Group and were there to thank the Prince for his intervention with placards reading "modern architects deliver social disaster".
Member Lyn de Villiers, said: "We're coming out in support of Charles' views. It [the Rogers proposal] is a monstrosity. By building this glass and steel development, they're going to turn the area into a Gucci Ghetto."
The speech itself was received by sustained applause and a single heckle of "down with the monarchy" from a journalist from the magazine Blueprint.
What the audience thought

Paul Monaghan, whose firm AHMM is working with Rogers on the Barracks scheme
"It was low key, polite and amusing at times. I thought it was all handled with great etiquette but I don't think it will change much. He seemed to say that 25 years ago, he was only saying there should be some room to do traditional architecture rather than saying everything should be traditional, so it's good that he corrected that."
Monaghan criticised colleagues including Will Alsop and Piers Gough who called for a boycott of the speech.
"As architects, we should be pluralistic and should always encourage debate."


Architect and Prince Charles ally, Robert Adam
"It was very good and all the stuff on tradition I'm absolutely behind. The key thing is about understanding tradition.
"Other than those pathetic people who don't want to listen to people who don't agree with them, it went down well.
"He said the absolute opposite to those saddos who refused to turn up – that we have to talk and have a proper debate."


Deputy leader of Kensington & Chelsea Council, Daniel Moylan
"In a sense, the speech was an invitation to buy into a particular religious view of the world – a naturalistic religion that is part of the natural order and that, if contravened, would go horribly wrong.
"Some of its assertions you can agree with but some of them are debatable.
"There was an attempt to make love to the RIBA, a clumsy fumbling which I thought the Prince did rather well on. While some of it was a tiny bit barbed, the prospect of cooperation must be welcomed by everyone."
Hugh Pearman, Sunday Times architecture critic and editor of RIBA Journal
"He got a few jibes in but must of it was fairly painless, particularly if you look back at what he said in 1984.This time he didn't get potshots in at any new projects and actually praised two modern schemes, one by David Chipperfield – the Neues Museum in Berlin.
"Sunand Prasad did very well – he quite rightly picked up the Prince on the assumption that there's this great big evil thing called modernism."
Key Prince Charles quotes
"What is tradition but the accumulated wisdom and experience of previous generations, informed by intuition and human instinct, and given shape under the unerring eye of the craftsman, whose common sense provides the organic durability we so urgently need?"
"In the world as it is now, there seems to be an awful lot more arrogance than reverence... a great deal more of the ego than humility, and a surfeit of abstracted ideology over the practical realities linked to people's lives and the grain of their culture and identity."
"An architect friend of mine asked 'How many Pritzker prizewinners are not living in beautiful classical homes?' and we all know what he was getting at. Surely architects flock in such numbers to live in these lovely old houses ...because, deep down, they do respond to the natural patterns and rhythms I have been talking about."